Companies We Like: Wine Grapes
Wine Grapes by Jancis Robinson MW, Julia Harding MW and José Vouillamoz has been described as "The most complete guide to vine varieties and their wines ever". We take a brief look at this epic work.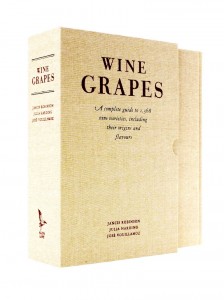 What is it?
The renowned Jancis Robinson MW, the highly experienced and Lalani & Co fan Julia Harding MW and expert José Vouillamoz have created the most comprehensive and advanced document on the world's 1,368 vine varieties.
Why we love it
Jancis, Julia and José are pioneers dedicated to the furthering and advancement of their craft, pure and simple. Wine Grapes is a seminal work, setting the bar in the wine world, put together with great love and attention to detail. The book will certainly progress wine making and appreciation, giving experts and enthusiasts the chance to explore the world of wine to new heights.
Words from Julia
"While researching and writing, I had the chance to taste some very uncommon grape varieties, for example Kolorko, Sumoll Blanc and Limniona but I know it is hard to find examples of some of these even in their country of origin.
As a lover of diversity in wine, I find it impossible to pick out favourites but I would be very happy to hear that the book had encouraged readers to take a risk and try varieties they have never had before. They may not become your favourite but I firmly believe that the more you know, the greater the pleasure."
Where to find out more

Priced at £120